Cars
Pilbeam MP97
Mercury 3
Pilbeam MP72
Sunbeam Ti
Pilbeam MP58
Ray FFord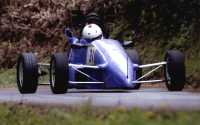 Oh Raymond, why did she sell you?
This poor little car was everybody's friend. He took an absolute beating around Llandow when three of us shared him for the day.
Possibly the only car I will ever assign a gender and suggest has a personality. But he did! Painted the most yucky of purples
and then used by my sister to teach herself what gravel traps and cones were for! Abused by everybody yet incredibly dependable.
Purchased with some cosmetic work required, finished off, raced hard and sold into retirement in West Wales.
He was once put up against the slick-shod, be-winged 1600cc Single-seaters at Wiscombe and finished 3rd in class in slippy conditions.
For a FFord car with grooved circuit tyres and a standard road engine, it was a stunning performance. No idea how we got him to handle
so well, it must have been luck.