Cars
Pilbeam MP97
Mercury 3
Pilbeam MP72
Sunbeam Ti
Pilbeam MP58
Ray FFord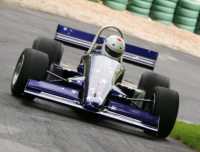 Pilbeam MP72
620 bhp Judd EV
Won the British Hillclimb Championship in 1997 in the hands of Roger Moran
Now running radial tyres
This has got to be the car with my favourite engine - from a power point of view. Its like being strapped into a missile,
and learning to drive radial tyres has been an interesting challenge. Some good showings in the Top12s of 2005 and 2006,
with my best ever finish in the championship of 12th in 2007. This car has taught me how to maintain carbon clutches and I have become somewhat
expert at removing the engine! Mods for 2006 mainly looked at improving the oil breathing and catch tank and fitting
plumbing for an engine pre-heater to save wear and tear. For 2007 I moved the exhaust forwards fitted a new undertray, rebuilt and slightly improved the rear suspension. For 2008 I moved the rear wing forwards which made it handle much better. By the time we sold it, it was faster than at any point in its life and supremely reliable. Such a joy to drive!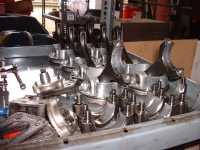 There can't be many pictures on the net of the inside of Judd EVs! Its not something that gets seen very often
but I went to find out more about how the scavenge and pressure sides of the oil pump work.