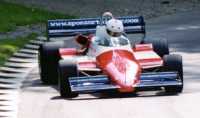 Pilbeam MP58-02H
What an absolutley glorious car to drive. I was incredibly fortunate that this was the first single seater I got in to drive properly. I drove it for about 7 years and my best performance in the British Hillclimb Championship was when Foot & Mouth disease meant that the championship couldn't visit all its usual hills. This rather played in to my hands as the chosen rounds were some of my favourite venues and I finished 15th in the championship and got the best newcomer award.
When we originally bought it, it had a 320bhp 2.8 litre Hart engine running mechanical fuel injection and fixed ignition timing. It would pull from absolutely nothing right to its 8500rpm red line. The power delivery was pretty smooth and in the wet its performance was stunning when the big V8s couldn't put the power down.
For the winter '03/'04 we fitted DTA management, bespoke cams and a new exhaust. Power went up to 340bhp with more than 240lb/ft of torque from 5250 to 7500rpm. More importantly, once Pete Willis (the engine builder) had solved the slight weak spot in the map at low rpm - mid throttle openings, the driveability was phenomenal. We spent all our effort avoiding the big bhp figures and chasing a driveable engine from 3500rpm upwards. Which is exactly what we got. We mapped as much of the top end as we dared on the dyno, but with the 2.8 Hart, didn't want to spend hours sorting the bottom end, only to need another rebuild! Big thanks have to go to DTA and Neil Peters for their patience in taking us through the intricacies of the mapping software. The DTA software is superb because its open and easy to use. Contact me if you want a copy of the 2.8 Hart Map.
Engine in my garage while being re-wired: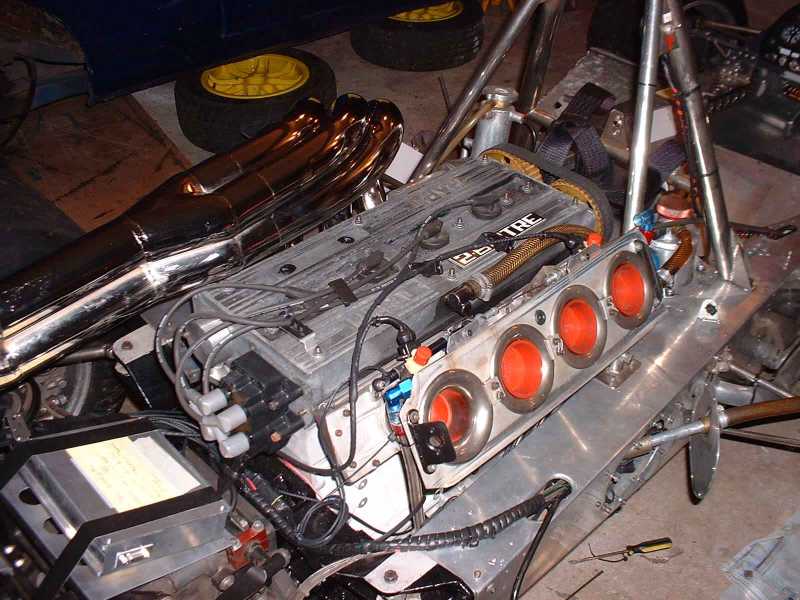 Dyno Results: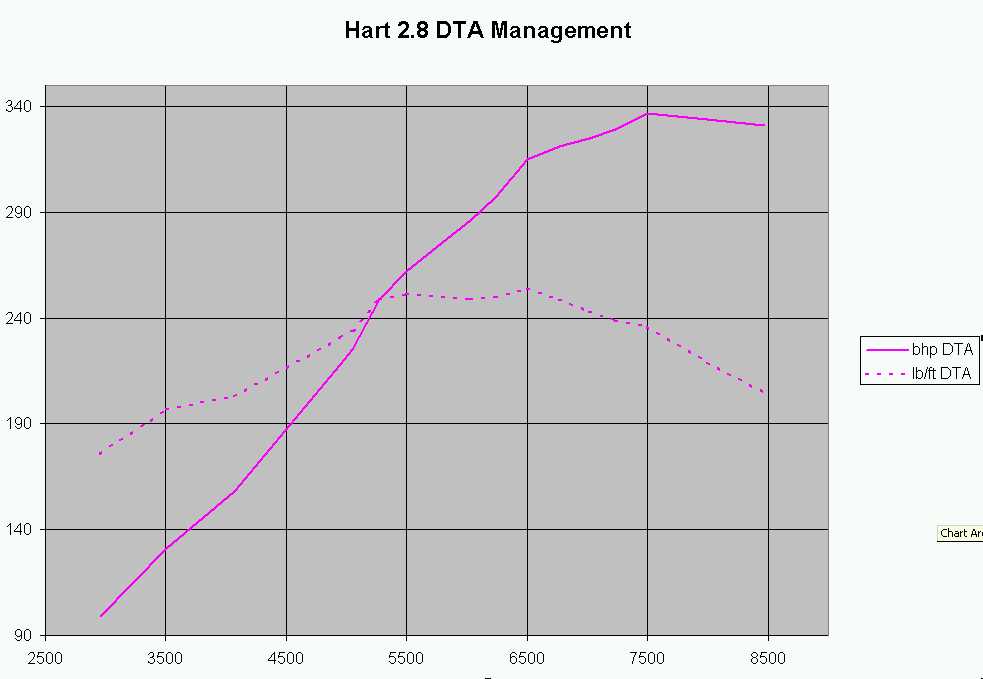 Its final run up Prescott, before it was sold, produced a time of 38.89secs. Which lives on in my mind as one of the most amazing things I have ever done.